Diagnosed recently, looking for advice
Sun Sep 02, 2018 12:51 am by Cloudberry
Hi everyone,
I'm so glad I found this forum! I was diagnosed with vulvodynia/vulvar vestibulitis (still not sure about the difference between all the different terms) a couple of months ago and I could do with some advice. This is probably going to be a lot of text because I just want to get everything off my chest, so please bear with me.
I'm a woman in my late 20s. Before getting diagnosed …
Comments: 3
Hurting, Burning, Itching, and Worn Out
Thu Aug 09, 2018 10:55 pm by donnambr
This vulvodynia that I'm currently suffering with is so cruel. I hurt, I burn, I itch. When I first got this several years ago, before the internet, I though I was the only one with this awful disorder. Doctors couldn't figure it out. I felt so alone and devastated. Somehow it disappeared for a few years and now I'm suffering again. This dreaded V misery is back and I feel like I will be with …
Comments: 5
Hi girls! New in this forum
Fri Jul 13, 2018 2:31 pm by Gaby
Hi everyone!
Also joining the V club, Here my story:
It all started last year in september with a very bad throat infection for which i had to take antibiotics for about a month. This cause several yeast infections (candidia albicans).... one after the other!. I had them every month from october 2017 till march 2018. During this period i use an incredible amount of anti-fungal creams and …
Comments: 1
Newbie and feeling helpless
Wed Jul 11, 2018 1:52 pm by Taylor1
Hi, I found out a few weeks ago that I have this condition, started off at the end of April as a uti took strong antibiotics then got a thrush infection and now this.. My doctor has tried me on amitriptyline and gabipentin and both made me so poorly I couldn't take it plus I have seen what long use of these drugs has done to my mom for pain and its not good. I am using coconut oil which does …
Comments: 3
I'm new to this forum and would love some advice! :)
Tue Jun 05, 2018 4:13 am by anikita
Hi lovely gals!
I'm honestly hoping to get any bit of advice anyone might have to offer. I go from bouts of sobbing hysterically in my boyfriend's arms to feeling confident that I can beat this.
I haven't been actually diagnosed with vulvodynia but EVERYTHING under the sun has come back negative. I started having sex 4 years ago after starting Lo Loestrin, with my first and current boyfriend …
Comments: 6
From a concerned husband
Thu Jul 12, 2018 10:45 pm by ConcernedYorkieHubby
Hello everyone,
This is probably a little unconventional, but I'm a man who is here because his wife has been diagnosed with vulvodynia. The poor girl has been suffering with vulva pain for around 10 years now, and I've been by her side through the pain and tears and doctors misunderstandings the whole way, and we're both exhausted and terrified by the whole experience.
I'm sure a lot …
Comments: 3
I'M NEW - Do I listen to my gyno who I feel has it wrong?
Fri Mar 09, 2018 6:17 pm by Tunes25
Hello!
I am a 25 year old woman and wanted to share my story here as I feel frustrated by the suggestions of my gyno and am hoping for some advice.
To give the context for this: in September 2016 I moved in with my long term boyfriend after living abroad a year and (nearly) abstaining from sex. Within a few weeks I had got a yeast infection which I treated myself successfully, but then 2 weeks …
Comments: 10
Gabapentin Gel. or other topical creams
Thu May 10, 2018 9:43 am by Rosie21
Hi I have been suffering for some years with this abominable pain. I have tried most of the systemic drugs , I asked specialists and Doctors if I could at least try a topical treatment but because this requires a special prescription have been refused Has anybody had a chance of trying these? Thank you I will try to put a link on to some of the research into Gabapentin Gel. Thanks.
Comments: 1
What has been helping ME (much less pain over time!!)
Wed May 16, 2018 3:43 am by leoscc
Hello everyone! I vanished for quite some time as my life became consumed by not only this but other daily responsibilities as well. Shortly after my diagnosis, my boyfriend f 3 years left me as he did not want to deal with this. It left me broken for a while but also gave me time to figure out what the heck was going on. So, I will write out a quick list of my symptoms and what helped me.
1. I …
Comments: 0

Hi girls,

it's a long time since I wrote last time in here.

I just want you to know VulvodiniaPuntoInfo became a charity association last year!

Some of you perhaps remember my story and the foundation of the first italian Forum for women suffering from V.

Well,
my dreams all came true. The association is the first & unique in Italy as non profit special charity organization, and the best of the news is that we the founder are two women healed from v!

We want to spread a message of hope for all! 

You can heal.
In our forum, the success stories are increasing year after year. And we are online only since 2010, only 5 years!

Many, many women, once healed, as you probably know, they don't write anymore, so the healings are much more than the written stories...
 I hope this will help you believe and have much more confidence in your presonal & unique  process of healing. 

Today, I have come back in here because I need your help.
Yes.
We really need your help ladies! 

We have created a special online Petition. It's called "#UnaFirmaPerLaVulvodinia" = a Signature for Vulvodynia
In Italy V. is not yet recognized by italian NIH.
We have created this petition composing a special text in order to gain much more attention from the Italian Government, but beyond all of this, our Petition goes deeper. 
We aim to achieve attention worldwide. Yes, that's what we plan.

You know, even if I am now healed, I cannot forget all the pain, not only my years devasted but also all the women I have met in these years of volunteering.
 I cannot forget.
I cannot.
I don't want to!
I don't want any more to read stories like that of Yvonne Wallis. I don't want to.

I cannot forget and I want to change things.

And more, it could be our daughter, our mother, our friend... 
I don't want to stay aside and forget all that pain and the suffering and become deaf to the women that today come into our Forum.

I want to take more action and really make a difference.

It's since 2010 that I am in this challenge.
 I was able to heal myself, but there's so much to do to help us heal altogether.
This is what I believe in: cooperation!

So I ask your help, please help us achieve big big numbers!

I ask you to please support us.

 It only takes one sec and one click.

Here it is:
We can get much more help if we stay together and act together.
This will affect in many positive ways all of us.
 This is not meant to remain confined to Italy!

our petition goes deeper. 


We aim to achieve attention worldwide. Yes, that's what we plan.
Thank you so much for your kindness! I thank in advance in special ways the admins and creators of Vulvodynia Support for letting me post all this. Hope it will be ok! Grazie di cuore!

With all heart,

Elena (aka Aida Blanchett) 

Associazione VulvodiniaPuntoInfo ONLUS
VulvodiniaPuntoInfo.com
#NoiCiCrediAmo
#WeBelieveVulvodynia(canbehealed)
Your Signature counts. Your Voice counts. It does make a difference!
Let Your Voice be HEARD!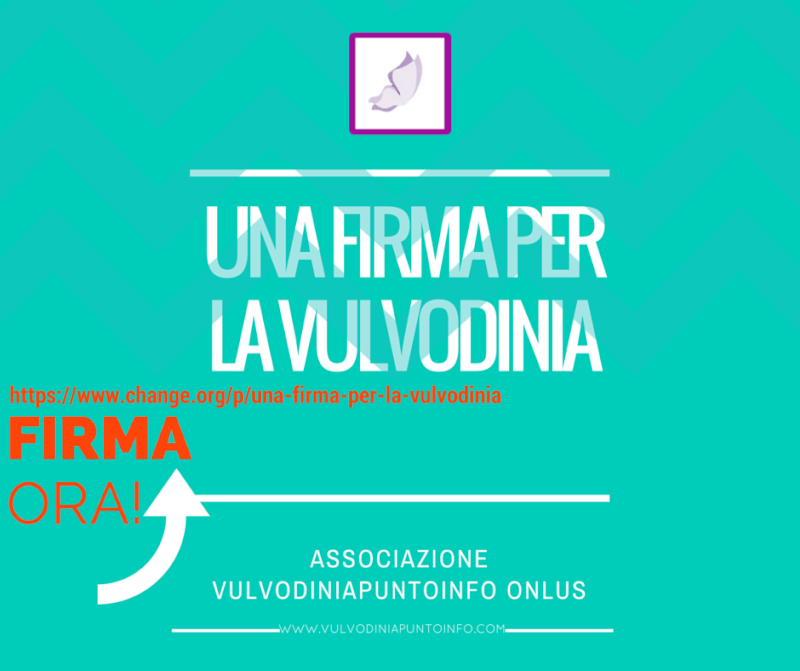 Posts

: 6


Join date

: 2012-02-22


Age

: 41


Location

: Rome




---
Permissions in this forum:
You
cannot
reply to topics in this forum