Constant pain, I want to die.
Fri Jun 02, 2017 4:29 am by Meggiemay
I posted on here a few years ago but my symptoms went away with the inflammation. I didn't get so lucky this time.
For over three months, i've had terrible rawness, burning, soreness in the urethral/vestibule area and pressure/hypersensitivity in the clitoral area. I've also had some lower abdominal pressure and burning on my butt. I can barely walk! My gyno hasn't been much help. I'm on …
Comments: 23
I'M NEW - Do I listen to my gyno who I feel has it wrong?
Fri Mar 09, 2018 6:17 pm by Tunes25
Hello!
I am a 25 year old woman and wanted to share my story here as I feel frustrated by the suggestions of my gyno and am hoping for some advice.
To give the context for this: in September 2016 I moved in with my long term boyfriend after living abroad a year and (nearly) abstaining from sex. Within a few weeks I had got a yeast infection which I treated myself successfully, but then 2 weeks …
Comments: 1
I cured myself 100% of vulvodynia twenty years ago--I hope this helps someone
Mon Mar 12, 2018 4:33 pm by totallycured
Hi,
Every so often I'm reminded of the constant, persistent, horrible pain I was in two decades ago, and I reach out to try to help others who are suffering. If someone had offered me a solution during that terrible time, I'd have jumped at it. I hope this helps someone.
Yes, I did have terrible vulvodynia. It felt like someone poured acid all over my vulva. My doctor confirmed it and was …
Comments: 1
Recently Diagnosed which has motivated my research study
Tue Mar 06, 2018 4:54 pm by ebclose2free
Hi everyone,
My name is Eliza Barach and I was diagnosed with vulvodynia in October of 2017. I'm also PhD student at the State University of New York at Albany. I work several professors at SUNY, but one in particular, Dr. Mitch Earleywine researches marijuana and its possible efficacy as an alternative treatment. Our previous examined cannabis and symptoms of PMS/PMDD and found that women …
Comments: 0
MAY HAVE FOUND A CURE- PLEASE READ
Thu Feb 15, 2018 10:04 pm by infinitelywondering
Dear all,
Today has been the day I've been waiting for. The day something FINALLY makes sense.
I've been told countless times that I've got nerve damage or a muscular condition, yet none of the specific treatments have helped me. My GP suggested attacking this from a different angle so referred me to a dermatologist specialist
after having a vestibulectomy with no success, I decided to visit …
Comments: 3
New and desperate for advice
Sat Mar 03, 2018 2:37 pm by srbry
Hi everyone,
I'm new here and was told to find a support group because this is all getting a bit much really...
I lost my virginity when I was 18 and it hurt - that was normal. Loads of women had told me that it hurt so that was fine I didn't question that. I was with the same guy for a couple of months and each time after that it was uncomfortable and not great. I didn't tell him because I …
Comments: 3
New and need some help
Wed Feb 21, 2018 4:30 pm by LindafromNJ
New to this site ad trying to figure out how it works.  I am trying to post as a new member so I am hoping this goes thru.  I am a senior adult and have just been diagnosed by the Drexil Vaginitis Center to have vulvodynia along with Vestibulitis (not sure if spelled correctly).  My symptoms are vaginal burning, itching, soreness around the vaginal opening with one spot in particular.  Some …
Comments: 9
Amitriptyline given for vulvodyina pain
Tue Oct 24, 2017 2:46 pm by katycrawford
Hi there,
After years of being misdiagnosed etc as most women have on this forum I have finally been diagnosed with vulvodynia (yay) and have been given the lowest dose of an antidepressant called Amitriptyline. Has anyone been on this before and has any positive (or negative) news to give me? Im feeling down already and I've only been taking it for a few days, I don't have much hope of it …
Comments: 12
Can A Cut In Vestibule cause Vulvodynia?
Thu Mar 01, 2018 1:07 am by rockylife
Can a cut in the vestibule area cause vulvodynia? Is it possible that some nerve a were damaged that's why I feel this pain in my area without visible lesions?
Comments: 0

Hi girls,

it's a long time since I wrote last time in here.

I just want you to know VulvodiniaPuntoInfo became a charity association last year!

Some of you perhaps remember my story and the foundation of the first italian Forum for women suffering from V.

Well,
my dreams all came true. The association is the first & unique in Italy as non profit special charity organization, and the best of the news is that we the founder are two women healed from v!

We want to spread a message of hope for all! 

You can heal.
In our forum, the success stories are increasing year after year. And we are online only since 2010, only 5 years!

Many, many women, once healed, as you probably know, they don't write anymore, so the healings are much more than the written stories...
 I hope this will help you believe and have much more confidence in your presonal & unique  process of healing. 

Today, I have come back in here because I need your help.
Yes.
We really need your help ladies! 

We have created a special online Petition. It's called "#UnaFirmaPerLaVulvodinia" = a Signature for Vulvodynia
In Italy V. is not yet recognized by italian NIH.
We have created this petition composing a special text in order to gain much more attention from the Italian Government, but beyond all of this, our Petition goes deeper. 
We aim to achieve attention worldwide. Yes, that's what we plan.

You know, even if I am now healed, I cannot forget all the pain, not only my years devasted but also all the women I have met in these years of volunteering.
 I cannot forget.
I cannot.
I don't want to!
I don't want any more to read stories like that of Yvonne Wallis. I don't want to.

I cannot forget and I want to change things.

And more, it could be our daughter, our mother, our friend... 
I don't want to stay aside and forget all that pain and the suffering and become deaf to the women that today come into our Forum.

I want to take more action and really make a difference.

It's since 2010 that I am in this challenge.
 I was able to heal myself, but there's so much to do to help us heal altogether.
This is what I believe in: cooperation!

So I ask your help, please help us achieve big big numbers!

I ask you to please support us.

 It only takes one sec and one click.

Here it is:
We can get much more help if we stay together and act together.
This will affect in many positive ways all of us.
 This is not meant to remain confined to Italy!

our petition goes deeper. 


We aim to achieve attention worldwide. Yes, that's what we plan.
Thank you so much for your kindness! I thank in advance in special ways the admins and creators of Vulvodynia Support for letting me post all this. Hope it will be ok! Grazie di cuore!

With all heart,

Elena (aka Aida Blanchett) 

Associazione VulvodiniaPuntoInfo ONLUS
VulvodiniaPuntoInfo.com
#NoiCiCrediAmo
#WeBelieveVulvodynia(canbehealed)
Your Signature counts. Your Voice counts. It does make a difference!
Let Your Voice be HEARD!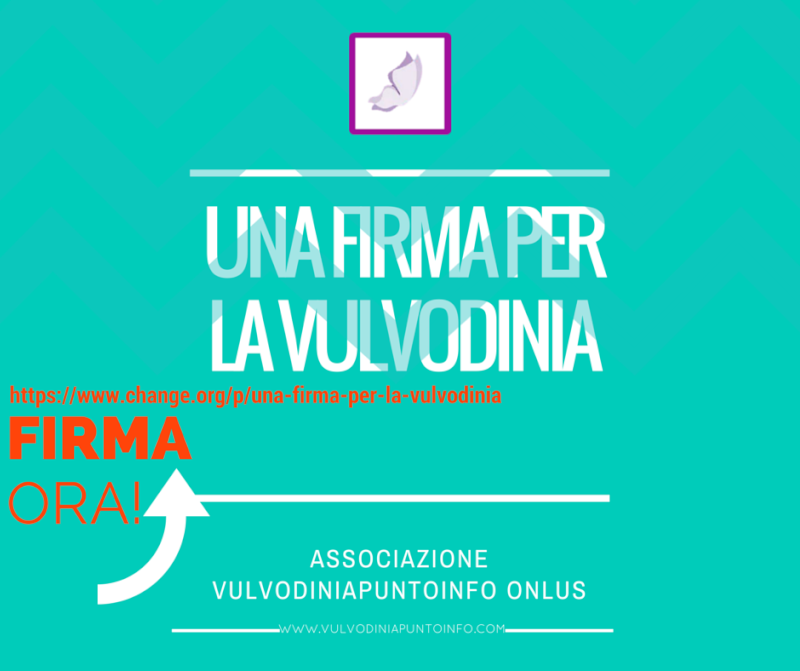 Posts

: 6


Join date

: 2012-02-22


Age

: 40


Location

: Rome




---
Permissions in this forum:
You
cannot
reply to topics in this forum